WILD HORSE HEART:
A Down-to-Earth Hollywood Romance 
---
"Deftly written, a lush love story that moves like a freight train." — Melanie Wise, founder of Artemis Film Festival
"Passion and adventure at every turn of the page. An honest look into a woman's mind and soul." — Maja Aro, stuntwoman / award-winning filmmaker
"My favorite stories hit that sweet spot between romance and women's fiction, and Katrina Ariel's Wild Horse Heart sits squarely in the middle of those worlds." — Amanda Heger, author of Semi-Scripted
"An enticing journey, the stuff of fantasy." — Lillian Isabella, filmmaker
---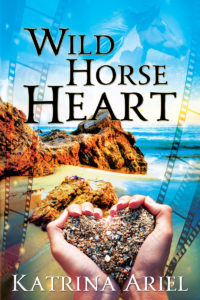 With a soft belly and thick thighs, Ria isn't Hollywood's version of beauty. But when award-winning director Ben Crawford hears her sing, he casts her as his lead, a move that wins more of Ria's heart than she wants to admit. Then she learns her co-star is Gregory Finn, a man she's had a crush on for fifteen years . . . a man notorious for romancing his leading ladies and leaving them when production wraps up. Ria is sure Finn won't want her, but their chemistry is off the charts. She guards herself against the inevitable end, but even Finn's emotions get tangled.
When Ria's ex jumps parole, she's terrified he'll go after her and her three children, blaming them for ruining his life. Security is high at the wild horse sanctuary where the movie is being filmed, and everyone is on edge. Ria's adopted daughter clings to her stuffed blue dog, and only Gregory Finn or a game of poker can draw the ten-year-old out of her shell. For Ria, the horses are her solace, but with her heart pulled between two men and her family's lives threatened, it will take everything she's got to hold it together for the film.
WILD HORSE HEART: A Down-to-Earth Hollywood Romance is a standalone contemporary romance with a moderate heat level (some steamy scenes, and some left to the imagination). eBook available on Amazon | Kobo | Google Play | Apple iBooks
---
Non-Fiction: YOGA FOR DRAGON RIDERS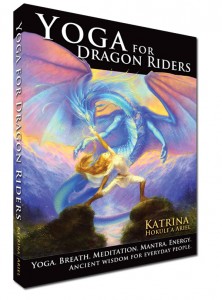 An extensive manual on yoga and subtle energy.
~~~
~~~
Written for fantasy lovers, this unconventional yoga book is a joy to read. Think of it as a "choose your own journey" yoga manual filled with instantly accessible exercises.
It weaves a theme of empowerment and infinite possibility with contents that include comprehensive how-to instruction and exercises on the following topics:
Yoga's foundational philosophy,
principles of integrity (Yamas and Niyamas),
yoga asana including detailed alignment,
asana sequences (on-the-mat yoga practices),
breathing exercises (Pranayama),
meditation,
mantra,
energy healing,
sacred texts, and more!
Yoga for Dragon Riders merges the realms of fantasy and reality in a fun yet detailed journey through the study of yoga and subtle energy.
---
Non-Fiction: UNLOCKING THE YOGA SUTRAS OF PATANJALI

A Simple (and Friendly) Guide to Understanding Yoga's Philosophy from a Personal Perspective.
~~~
~~~
Gain the experience necesary to weave your own interpretations of this or any other sacred text. Sutras are dense, riddle-like lines of Sanskrit. Every commentary author has a different take on this sacred text, and frequently the interpretations are widely varied. Though this can be confusing, and it can also be liberating if you allow yourself to come to your own conclusions about what it means to your own individual life and practice of yoga.
This book is an easy, encouraging guide to a study that can often feel too serious. The wisdom it contains offers clarity, inner peace, and an approach to living a life of the highest integrity.
---
Fiction: THE SONG WEAVER'S SON
I am seeking representation for a commercial fiction mash-up of the movies Thor, the Matrix, and Burlesque. THE SONG WEAVER'S SON is an 88,000-word adult sci-fi/fantasy romance, in which a love-struck dragon rider and four kick-ass women must defeat malevolent immortals before they slaughter again.
Davy is fated to defend the people of Earth, but he can't do it alone. When assassins attack, he escapes from a Manhattan rooftop with two book-loving burlesque dancers. Davy doesn't mean to pull them into his weaving, but Carmina's thread is already through his heart, and he's not ready to face the Vándr—immortals wielding death and domination to compensate for their shattered souls.

Carmina and her cousin, Lela, are deep in the revolution. Not only does Davy have the answers they need, but he saves their lives by bringing them through time and space to the Realm of the Gods. There, the cousins struggle to learn advanced skills in too short a time. They only have a handful of days before the Vándr plan to execute everyone in Las Vegas, but Davy and Carmina's attraction to each other sabotages their ability to focus. Worse, Lela entangles with the rebel god Loki, and their friends-with-benefits arrangement turns into something more dangerous than the Vándr—true love between a mortal and a god.

Davy, Carmina, and Lela must push through doubt and distraction into focused belief. If they don't stop the slaughter of Sin City, Earth will fall to its oppressors. Davy is determined to keep his team alive, but the odds of survival are grim. And even the gods fear what Loki will do if he loses the woman he loves.
If you are an agent or publisher and want to know more about THE SONG WEAVER'S SON, please contact Katrina at KatrinaHAriel (at) gmail (dot) com.