"An enticing journey, the stuff of fantasy." — Lillian Isabella, filmmaker
"Deftly written, a lush love story that moves like a freight train." — Melanie Wise, founder of Artemis Film Festival
"My favorite stories hit that sweet spot between romance and women's fiction, and Katrina Ariel's Wild Horse Heart sits squarely in the middle of those worlds." — Amanda Heger, author of Semi-Scripted
---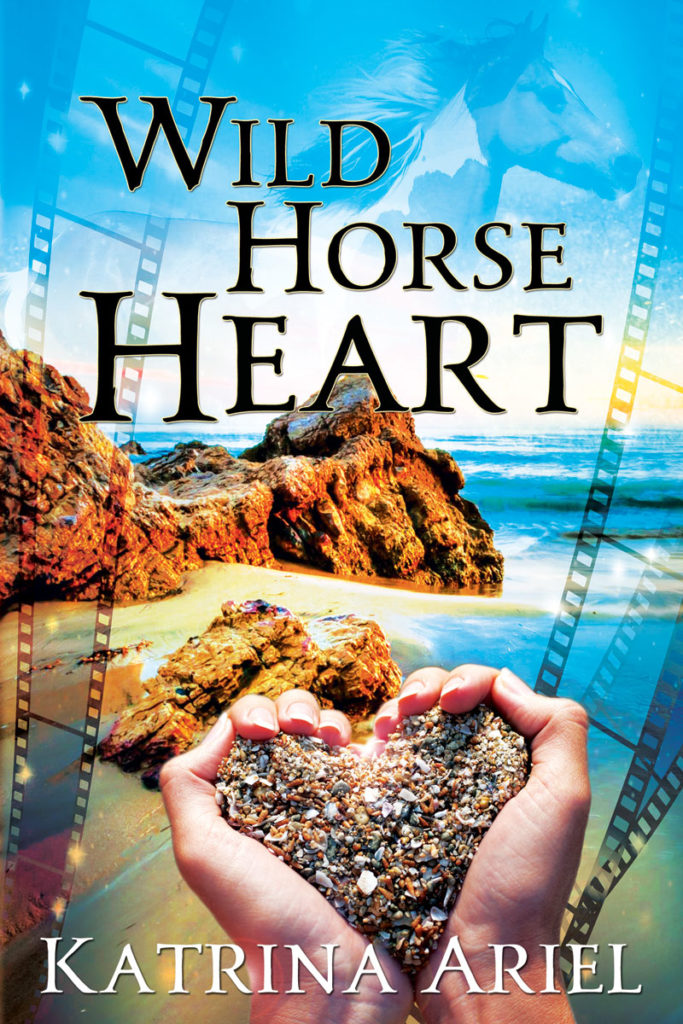 With a soft belly and thick thighs, Ria isn't Hollywood's version of beauty. But when award-winning director Ben Crawford hears her sing, he casts her as his lead, a move that wins more of Ria's heart than she wants to admit. Then she learns her co-star is Gregory Finn, a man she's had a crush on for fifteen years . . . a man notorious for romancing his leading ladies and leaving them when production wraps up. Ria is sure Finn won't want her, but their chemistry is off the charts. She guards herself against the inevitable end, but even Finn's emotions get tangled.
When Ria's ex jumps parole, she's terrified he'll go after her and her three children, blaming them for ruining his life. Security is high at the wild horse sanctuary where the movie is being filmed, and everyone is on edge. Ria's adopted daughter clings to her stuffed blue dog, and only Gregory Finn or a game of poker can draw the ten-year-old out of her shell. For Ria, the horses are her solace, but with her heart pulled between two men and her family's lives threatened, it will take everything she's got to hold it together for the film.
WILD HORSE HEART is a 77,000-word stand-alone contemporary romance with a moderate heat level (some steamy scenes, and some left to the imagination).
---
Chapter 1
~
Ria always played the Farmer's Market on Sundays. She never imagined this would be the last time. That morning in late June, she strummed her guitar in her usual spot between vendors, with fresh produce on her right and the best tamales in Hollywood on her left. The sun scorched her black hair as she sang. The song earned her smiles, coins, and a few singles.
And then a man threw a crisp hundred into her guitar case.
Ria gaped. Her fingers picked the last notes of the song as she swept her eyes up to the man's face. She recognized his messy hair and crooked smile, but she couldn't come up with his name.
"You have an incredible voice," he said, revealing hazel eyes as he took off his shades. His ears stuck out a little, giving him a boyish look, though he had to be over forty.
"Thank you," she replied, trying not to stutter. "That's a very generous tip."
"I'm hoping it will entice you to listen to my offer," he said.
"Which is what?" asked Ria.
"I'm filming a movie. Casting the lead role in the next week. I'd like you to audition."
Ria's guard went up. "What kind of movie? It's not porn, is it?"
The man laughed. "No, it's not porn. It's about a mother who wanted a horse ranch all her life. When she finally gets it, everything else falls apart. Her husband leaves her, and she has to fight to keep her ranch and not lose her son to drugs."
Ria's eyes stung as she considered the kind of struggle that would be, not wanting to even think about her own kids going down that road. But why would he want her? She had thick legs, a belly that was soft from two pregnancies, and cheeks that were plump by Hollywood standards.
"What's your name?" she asked.
"Ben Crawford."
"You're the guy who filmed Sleeping in the Rain, right?" He nodded. The movie had won numerous awards, and his pride showed in his smile. Ria stood up, held her guitar in her left hand, and stuck out her right for a handshake. "Ríona Walsh. I go by Ria."
"Pleased to meet you, Ria." He pulled a business card and pen from his pocket, then jotted down an address. "Can you make an audition next Saturday morning? It's the last one we're doing. I've got the rest of my cast, but haven't found my Josie yet."
Ria nodded, her heart racing, hoping he didn't see the way her hand shook as she took the card. She wanted to ask him, "Why me?" But what she said was, "I'll be there."
"Bring your guitar," said Ben, and gave her a wave.
When Ria realized she was admiring the way his jeans hugged his rear as he walked away, she scooped up the hundred, sat down, and started playing again.
★★★★★
The drive home to South L.A. gave Ria time to second-guess the conversation she'd had, though the bill in her pocket was real enough. She parked in the short driveway, unloaded the car, and walked around the grey stucco exterior.
Juggling her guitar case and bags of goodies from the market, Ria pushed the door open with her foot and entered the dark house. The curtains were drawn, the kids were playing video games, and her husband had a beer in one hand and his phone in the other. He didn't even glance up.
"Hey Mama," said Rachael, Ria's nine-year-old beauty. She had her father's green eyes, but Ria's dark hair and freckled skin.
"Hi Mom," said Michael.
Anna said, "Hi Ria," at the same time. She and Michael were cousins, but they looked and acted like twins. They had the same blue eyes Ria had once shared with her sister.
"My darlings," said Ria. "You should be outside. It's a beautiful day."
"Dad said we could play video games," said Michael, leaning to one side as he pressed his controller with rapid-fire thumbs.
"Well I say go outside and play." They started to protest, so Ria added, "Finish this game, then go outside. Okay?"
She got less-than enthusiastic replies, but they agreed. Ria lugged the groceries to the kitchen. Without looking up from his phone, her husband, Mark, moved closer to the doorframe so she could get past him. The cloth bag of carrots and beets pushed into his gut as she squeezed through, but he didn't move to help. Bastard.
In the process of depositing her load onto the counter, Ria's purse got tangled between two of the grocery bags and a chunk of her hair. She growled as she ducked out of her purse strap and deposited the whole mess on the counter at once. Once she was free, she glared at Mark.
Scruffy face. Dirty hair. His beer bottle rested on the bulge of stomach that had grown steadily over the last five years of their marriage. The black cross tattoo on his right arm bulged as he bent it, though, reminding Ria he'd once been handsome, and was still bloody strong.
"What?" he asked in a half-drunk voice, finally glancing up. "How'd it go at the market? Did you make any money?"
Years of unspoken words thickened Ria's throat. She turned her back on Mark and began putting the food away. "I made a little," she lied. He didn't need to know about the hundred-dollar bill that seemed to sing in her pocket.
Mark didn't even respond. He took a swig of beer, bent his head, and used his index finger to type his text, probably to one of the guys from work. Sound effects from the TV in the next room grated on Ria's nerves. As soon as the kids' game was over, she strode to the windows with thudding steps, tore the curtains open, then forced herself to take a deep breath. She would not yell at her children.
"Please go outside," she told them, her finger pointing to the back door. Grudgingly, they walked through the kitchen, past Mark—who didn't lift his head—out the screen door, and into the yard.
Ria put her face in her hands. Her nose gave a windy whistle as each overwhelmed breath came in and out. For the millionth time, she wished she hadn't married Mark when they found out she was pregnant with Michael. Then, just as quickly, she buried the thought, knowing she wouldn't have Rachael if that had been the case. Anna, of course, would've been hers regardless.
Ria wanted nothing more than to call her sister up, bitch about Mark for a minute or two, and then get all excited about the big tip she'd been given this morning and the offer that had come with it. But Quinn Walsh had died two years ago—killed by a drunk driver—so Ria didn't have her sister to confide in. Instead she had another daughter to love.
Up the stairs she went. At the top, she turned left, then blew a frustrated sound into the stale air of the bedroom. Half of the blankets dangled off the bed, and Mark's dirty work clothes were strewn across the floor. She kicked them into his corner of the closet, muttering under her breath. That done, she went to the window and opened it.
Their little house wasn't much, but it was better than an apartment. At least they had a yard. Ria peered down, where she saw Anna and Michael sitting on top of the picnic table and Rachael tossing a basketball into the plastic hoop by the fence.
Ria cocked her head to make sure Mark wasn't coming up the stairs, then dropped to her knees and opened the bottom left drawer of the dresser. Soft sweaters yielded as she reached for the pouch at the back. Ria unzipped the green velvet coin purse—a gift from a cousin in Ireland—and stashed the hundred with the rare twenties she got as tips when she busked.
The contents of the purse were reserved for emergencies, though Ria dreamed she'd one day have enough to take the children to Ireland to meet their grandparents. They talked on the phone a few times a year, when birthdays and Christmas rolled around, but Ria had been in the U.S.A. since she was five, and had only been back to her birthplace once before her parents died. With no other family in the country—excessively religious in-laws didn't count—Ria missed the boisterous gatherings of her childhood. She wished her children could experience the fullness of belonging she remembered, surrounded by people who loved her, people who knew how to have fun together.
With a sigh, Ria returned the pouch to its hiding place, then stood and looked in the mirror. She tried to figure out what Ben Crawford had seen in her this morning, but whatever it was, it evaded her. All Ria saw was a tired woman who lived for her children and tried to pretend the rest of her sorry life wasn't all that bad.
END CHAPTER
---
---
"Wild Horse Heart is a beautiful, deep romance that keeps you pinning for all three of the leads' happily-ever-afters until the very end, twisting your heart in two directions. The book captures the spirit, magic, and maturity of a love that can only be brought together through family, art, and horses." ~ H. Singerman
---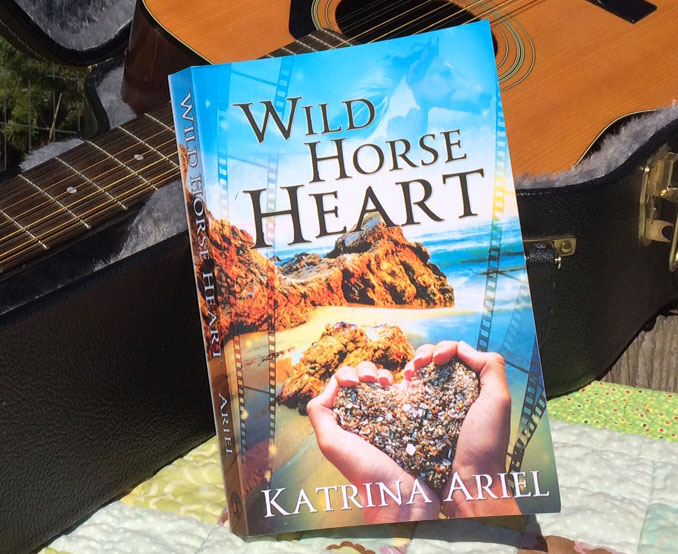 Thanks for sharing!