AHHHHHH! I'm so excited. Here's a cover reveal of my upcoming romance book, WILD HORSE HEART.
But first, a little story for you: I went to art school, mostly because none of the other options interested me career-wise (read: I had no idea what I wanted to do with my life). I self-majored in video editing, and have done relatively little work as a graphic designer since. That is, if you're counting paid work done for other companies. For myself, I've used my design background over and over again. Art school turned out to be a good choice for this Gemini.
My latest adventure in digital art? The cover of my debut novel, WILD HORSE HEART, a down-to-earth Hollywood romance.
I'll tell you why I love it, and what each element means to me below (and don't miss the book description at the end), but first . . .
Check it out!
---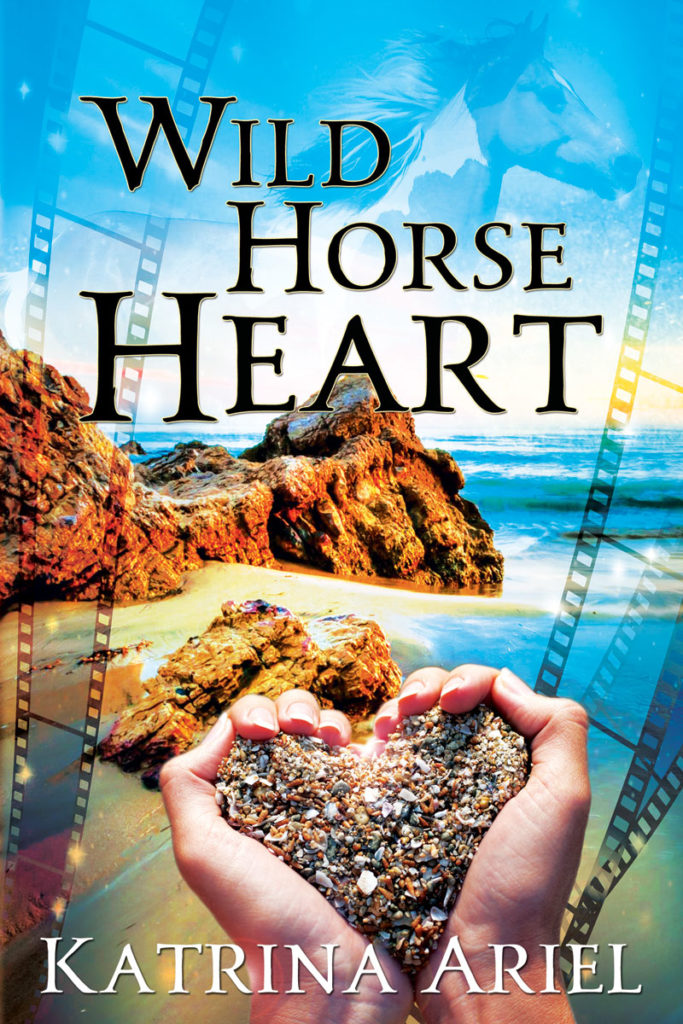 ---
Isn't it sparkly? I like sparkle.
So, let's dive into this. Maybe I'll throw some philosophy in for good measure. What do we see here?
Well, we've got the beach for starters.
WILD HORSE HEART is a down-to-earth Hollywood romance. The characters meet in L.A., where the beach and ocean set the mood for many of the book's scenes, then the setting changes, and we travel to a mountain valley in western Canada where the movie is filmed at a Mustang horse sanctuary.
Ah, yes. There's a horse up there.
Yep. Two of the horses in the herd of movie-star Mustangs become as important as the human characters in the story.
I see film strips on the sides.
Yes. The plot weaves between the real-life people in the story and the characters they play in the movie they're making. Fun, fun, fun!
So what's with the hands holding sand and broken bits of seashell? You promised me some philosophy.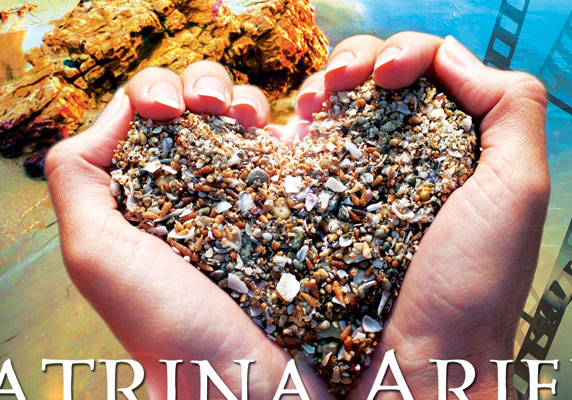 That I did. Look at those hands. Can't you just see them opening? The sand and shards of shell will fall right through her fingers, like the fragile thing a heart can be.
Sure, our leading lady could scoop up another clump of hope mixed with reality, and craft a whole heart again, but will she? And if she does, can she keep it from falling apart again?
Here's the back cover copy:
With a soft belly and thick thighs, Ria isn't Hollywood's version of beauty. But when award-winning director Ben Crawford hears her sing, he casts her as his lead, a move that wins more of Ria's heart than she wants to admit. Then she learns her co-star is Gregory Finn, a man she's had a crush on for fifteen years . . . a man notorious for romancing his leading ladies and leaving them when production wraps up. Ria is sure Finn won't want her, but their chemistry is off the charts. She guards herself against the inevitable end, but even Finn's emotions get tangled.
When Ria's ex jumps parole, she's terrified he'll go after her and her three children, blaming them for ruining his life. Security is high at the wild horse sanctuary where the movie is being filmed, and everyone is on edge. Ria's adopted daughter clings to her stuffed blue dog, and only Gregory Finn or a game of poker can draw the ten-year-old out of her shell. For Ria, the horses are her solace, but with her heart pulled between two men and her family's lives threatened, it will take everything she's got to hold it together for the film.
WILD HORSE HEART is a 78,000-word stand-alone contemporary romance with a moderate heat level (there are some steamy scenes, and others left to the imagination).
If this story sounds like something you want to read, please sign up for my newsletter below and I'll let you know when pre-order opens.
For all the excitement about WILD HORSE HEART, general writing banter, and encouraging posts, please follow me on Twitter: @KatrinaAriel
Thanks for sharing! Let me know what you like best about the cover. 🙂