I gobbled up this story. The first book in The Witches' Rede series sets up an intriguing cast of characters in a believable world where the odd work of witchcraft is perfectly normal—at least for Maeve and her delightfully fringe friends.
And look at this cover! I love this cover. At least 50% of my decision to buy this book was because of this art.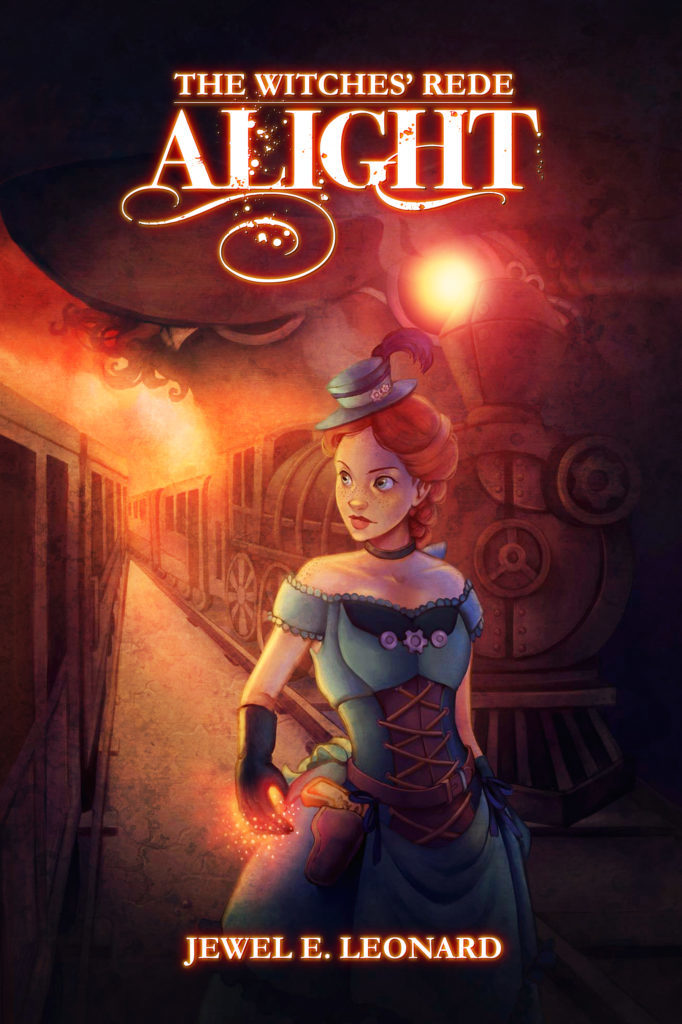 Here's the book description:
Maeve lives a charmed life in the small desert town of Redington in Arizona Territory–where spousal prospects are sorely lacking, career choices are shamefully limited to the saloon, and Death himself has a vendetta against her.
All Maeve wants is her independence but 1883 society has decidedly different expectations for her.
Enter Shadow Wolf: notorious for his dark reputation and grotesque mechanical arm. The gunslinger, a suspiciously werewolf-esque man whose social situation bears some obnoxious similarities to Maeve's, has found his place among the masses by walking on the wrong side of the law.
When Maeve stumbles upon Shadow Wolf's scheme to rob a stagecoach, he forces her to choose between her life or breaking the witches' Golden Rule. Despite certain karmic retribution, Maeve relies on her wit and a sprinkling of magic to survive the heist. When nothing goes according to plan, she finds herself not just on the ride of a lifetime, but also roped into an unanticipated romance with a sexy bandit at the reins.
---
Review: Solid 4.5 Stars for ALIGHT by Jewel E. Leonard – A delicious steampunk romp with fiery characters.
This book was a fun read. I adored quite a few of the characters, and felt right at home in the saloon where Maeve works. I like her kindness and determination, and how she's always trying to do what's right, morally. I also like how her morals shift as her experience grows. The way Maeve speaks feels authentic and fun, and I plunged through the book wanting to know more about her and her dangerous friends.
Sometimes I found myself skimming places where the same theme repeated itself in the bickering between lovers. I may have cursed the characters for being idiots once or twice. However, the arguing and rash decisions are believable since we're dealing with a riotously hot-blooded Irish woman and a tough, sexy-as-hell, dark-an'-handsome Italian man.
I appreciate the diversity woven into ALIGHT, with a cast full of immigrants from different corners of the world, fitting for the era. One of my favourite characters is Alexis, a woman whose disinterest in men and attraction to Maeve added sizzle to the story.
I loved westerns growing up, and I've been a fan of witches pretty much forever, so The Witches Rede series is right up my alley. Though I could guess where the plot was going as I read ALIGHT, I was 100% willing to take a familiar ride in a different world, with new characters to fall in love with. I'll be looking for book two and three in the series when they come out!
Buy ALIGHT on Amazon as a paperback or Kindle
Visit Jewel E. Leonard's website (her blog posts tend to make me laugh)
Follow the author of ALIGHT on Twitter: @JewelELeonard
---
PSA: Authors appreciate your support, and posting respectful reviews are one of the best ways to give back to an author whose work you've enjoyed. Following them on Twitter is also a great way to say thanks and encourage them to keep writing. (Yes, we all need encouragement, sometimes. Not that we'd stop writing, but encouragement makes the hard days easier.)
Enjoy this review? Please say hello on Twitter: @KatrinaAriel